Donate to and support MelodyInter
Kindly Donate to and support MelodyInter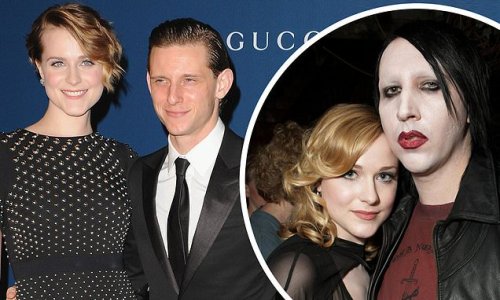 American actress, Evan Rachel Wood has 'handed over primary custody of her son' to ex Jamie Bell due to fears she could be putting her child in danger by residing with him after her ex, Marilyn Manson made alleged threats against the child. According to legal documents obtained by The Blast, the actress, 35, has agreed for her son Jack, 9, to 'primarily' live with Bell, 36, in Los Angeles. She currently resides in Nashville, Tennessee, and has previously been fighting to keep her son out of LA.In the filing, Wood and Bell have agreed their son will 'primarily live with (him) in Los Angeles, (Wood) shall have custody of Jack one (1) extended weekend per month from Friday, after school or 10:00 a.m.'Wood will also have custody of Jack for holidays such as Spring Break. In July 2022, Bell claimed the pair had shared 'equal custody of Jack for seven years before Wood began keeping Jack from him' – a claim she denied.Sources tell the publication Wood is 'extremely afraid of putting her son in danger' – 17 months after she claimed in a court declaration Manson, 54, told her he would 'f**k' her then eight-year-old son – Manson denied the claim.Manson has faced claims of sexual abuse and human trafficking. More than a dozen women, including Wood, accuse him of abuse – accusations Manson has denied.Wood has allegedly spoken of her fears of retaliation from the singer, saying in custody court: 'I am a key witness in a pending criminal investigation. In connection with the investigation, I allege that I was the victim of torture, rape, and pedophilic grooming by an intentionally known public figure.'I am extremely afraid of the alleged offender. I have suffered a severe, traumatic physical and emotional injury at his hands, and I am afraid that he will seek retribution against me for testifying by harming me, our son, and members of our family.'It was also claimed that Wood alleges she was told 'directly by investigators' that her family's safety was at risk.Bell is said to have filed documents with the court claiming Wood was 'keeping their son from him', that it 'shouldn't matter what was going on with Manson' and that the pair should share custody of their son in LA.He wrote: 'Whatever fears Evan may have regarding third parties should have nothing to do with me or custody of our son. I do not even want to think of the short- and long-term psychological harm Evan might be inflicting upon Jack with this kind of talk and my prolonged separation from him.'Wood responded, denying she had kept Jack from Bell and expressed her 'real and deep concerns' regarding her and Jack's safety should the pair reside in LA.
 The new custody arrangement was signed and filed with the LA County Courts.In December 2021 Manson allegedly threatened the families of women who accused him of sexual assault and sex trafficking, according to court papers obtained by DailyMail.The rock musician reportedly told Westworld actress Wood he would 'f**k' her then eight-year-old son, she said in a declaration to the court. Manson denies the claims.'I took his threat seriously, then and now,' she said.Manson's threats forced Wood to install bulletproof glass windows, a steel door, and a security fence around her Los Angeles house, she told a judge.
 'I am looking into attack dogs and security guards at night,' she added.Wood made the allegations against Manson in a court battle with ex-partner Bell over custody of their son, Jack.She said in a March declaration: 'I only recently learned that (Manson) was involved in human trafficking and the sexual exploitation of minors on a large scale.'These new developments, combined with the pending criminal investigation, lead me to be very concerned about our child's safety when in Los Angeles.'Bell claimed Wood had moved from LA to Nashville to keep the boy from him. But Wood said she wanted to leave California because of her fear of Manson and because she liked the slower pace of life in Tennessee.In her papers, Wood referred to Manson as 'the alleged offender,' and confirmed that she intends to give evidence against him in court.'I am extremely afraid of the alleged offender,' Wood said. 'I have suffered severe, traumatic physical and emotional injury at his hands, and I am afraid he will seek retribution against me for testifying by harming me, our son, and members of my family.'In my experience, the alleged offender is very retaliatory and has always made it clear that he will ruin my life.'She said one of Manson's other alleged victims recorded him saying he had pictures of her children going to their mailbox, as well as their social security numbers.'I've got everything, they're f**ked, and they're going to be f***ing destroyed,' he is said to have told the unidentified woman.He allegedly said he knew where all the people who had 'created his problems' were. 'I know where they live, where their f***ing kids go to school, where they work, their parents'Wood said she had been deluged with death threats since making her allegations against Manson in February.Wood and Billy Elliott star Bell first dated in 2005 and they then rekindled their romance after her relationship with Manson fell apart.In January 2023. Manson was sued for allegedly grooming and assaulting an underage girl multiple times in the 1990s, according to a new lawsuit.The singer was listed as a defendant alongside his former labels Interscope and Nothing Records. The plaintiff submitted it anonymously and claims Manson repeatedly raped and sexually assaulted her from the age of 16, laughing at her and threatening to kill her family if she told anyone.The lawsuit focuses on sex crimes that allegedly took place at the beginning of his career. Manson denies the accusations of sexual assault made against him by at least 15 other women from later in his career.The week prior he settled out of court with Game of Thrones actress Esme Bianco, who said he raped her, abused her and locked her in his bedroom while they were dating.The post
Actress Evan Rachel Wood 'hands over primary custody of son to Jamie Bell after her ex boyfriend allegedly made threats against the child
appeared first on
Linda Ikeji Blog
.