Donate to and support MelodyInter

Kindly Donate to and support MelodyInter


[Button id="2"] [Button id="1"]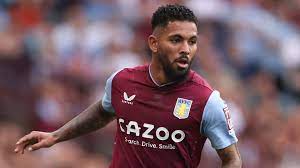 Aston Villa midfielder Douglas Luiz was delighted scoring from the spot in victory over Crystal Palace.
READ ALSO:EPL: How Iwobi's jinx was broken with Fulham victory over Luton
Luiz equaled Gareth Barry's record of scoring in four consecutive Premier League home matches.
"I saw the news before the game," he told Villa's official website.
"And (that) I can score in the game, I'm so happy for this. I need to continue training so hard, I've scored four goals in the four consecutive games and I am so happy."
Asked about his focus for the penalty, he added: "It's hard, to tell the truth.
"But I stayed focused and just waited for the ref, I can't change something and I just focused on the penalty.
"We created so much in the first half. In the second half we created again. In the last 10 minutes, we scored and everyone is so happy."