Donate to and support MelodyInter
Kindly Donate to and support MelodyInter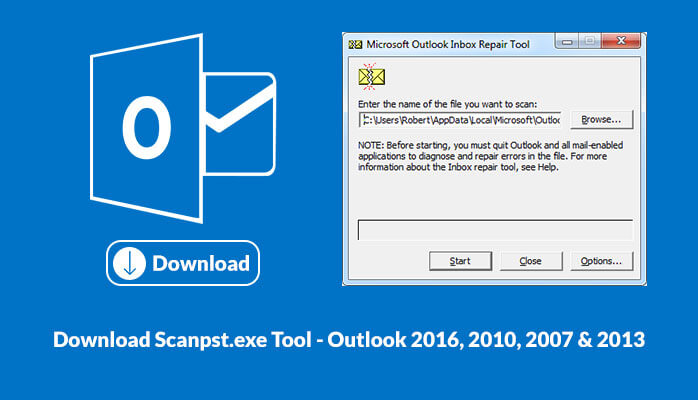 Microsoft Outlook is an incredibly powerful email management tool, and the PST file format is used to store all of your emails, calendar entries, contacts, tasks and other important data. Unfortunately, PST files have a tendency to become corrupt or damaged over time due to various factors such as bad sectors on the hard drive, power surges and viruses.
Fortunately, there are ways to quickly detect and repair any corruption or damage in your PST file so that you can keep all of your important Outlook data safe!
1) Using Scanpst:
The first step is to use Microsoft's own utility called "Scanpst" (or Inbox Repair Tool) which comes with every version of Microsoft Outlook. This tool will scan through your entire PST file and check for any potential problems. If it detects any, it will attempt to fix them automatically.
2) Using Third-Party Tools:
If Scanpst doesn't resolve your issue or if you're unable to use it due to an error message, then there are third-party tools available which can help detect and repair any corruption or damage in your PST file. These tools typically offer a much more comprehensive scan of the entire PST file and can often repair issues that Scanpst may not be able to fix.
3) Contact Microsoft Support:
If you're still having trouble with your PST file after trying both methods above, then the best option is to contact Microsoft support directly for assistance. They should be able to provide you with more specific advice and may even be able to help you repair the file.
Many business users rely on Microsoft Outlook and its associated PST (Personal Storage Table) files to store emails, contacts, appointments, tasks, and other important data. Unfortunately, these large PST files can become corrupt or damaged due to a variety of reasons such as hardware failures, power outages, virus attacks, etc. When this occurs, the files can become inaccessible, leading to an error message or complete data loss.
Fortunately, there are several methods that can be used to quickly detect and repair corrupt or damaged PST files.
Related: All You Need To Know About The Pricing Of A Crypto Token
This article will outline some of the most common and effective techniques for recovering data from Outlook PST files.
Method 1: Use Scanpst Tool
The first method that users can try is the inbuilt Inbox Repair Tool (Scanpst.exe). This integrated Microsoft tool helps fix minor issues with Outlook's .PST file structure and repair specific errors such as "File xxx cannot be found", "Outlook not responding", etc. To use this tool:
Close all applications and programs running in the background.
Open "My Computer" and navigate to "C:Program FilesMicrosoft OfficeOffice14" (or whatever folder has your Outlook installation).
Find and double-click "Scanpst.exe", which should launch the Inbox Repair Tool wizard.
Click "Browse" and locate the affected PST file on your computer, then click "Start" to begin scanning it.
If errors or inconsistencies are found during the scan, you will be given the option to repair them automatically or manually.
Method 2: Use Third-Party Tools for PST File Recovery
If Scanpst.exe is not able to recover the data, users can try using third-party PST Recovery software. These specialized programs are designed to detect and repair corrupted Outlook files in a much faster and more efficient manner than the Scanpst tool. Additionally, some of these tools offer advanced features such as data filtering, selective recovery, etc.
Steps for Using Third-Party Tools:
Download and install a reliable PST Recovery program on your computer.
Launch the application and select the "Recover Deleted Items" or "Repair Corrupted Files" option from the main menu (depending on your requirement).
Follow the onscreen instructions to locate the damaged PST file on your system, then select it and click "Recover".
The software will start scanning the file, and you can view the detailed recovery process in a separate window.
After the scan is complete, you will be given the option to preview or export the recovered data to Outlook or any other email client of your choice.
Conclusion:
Corrupt or damaged PST files can lead to a significant amount of data loss for business users who rely on Microsoft Outlook for their day-to-day communication needs. However, by using the Scanpst tool and third-party PST Recovery software, users can quickly restore their important emails, contacts, calendar items, tasks, and more from corrupt PST files with minimal effort.
The post How To Quickly Detect And Repair Corrupt Or Damaged PST Files? appeared first on Complete Sports.