Donate to and support MelodyInter
Kindly Donate to and support MelodyInter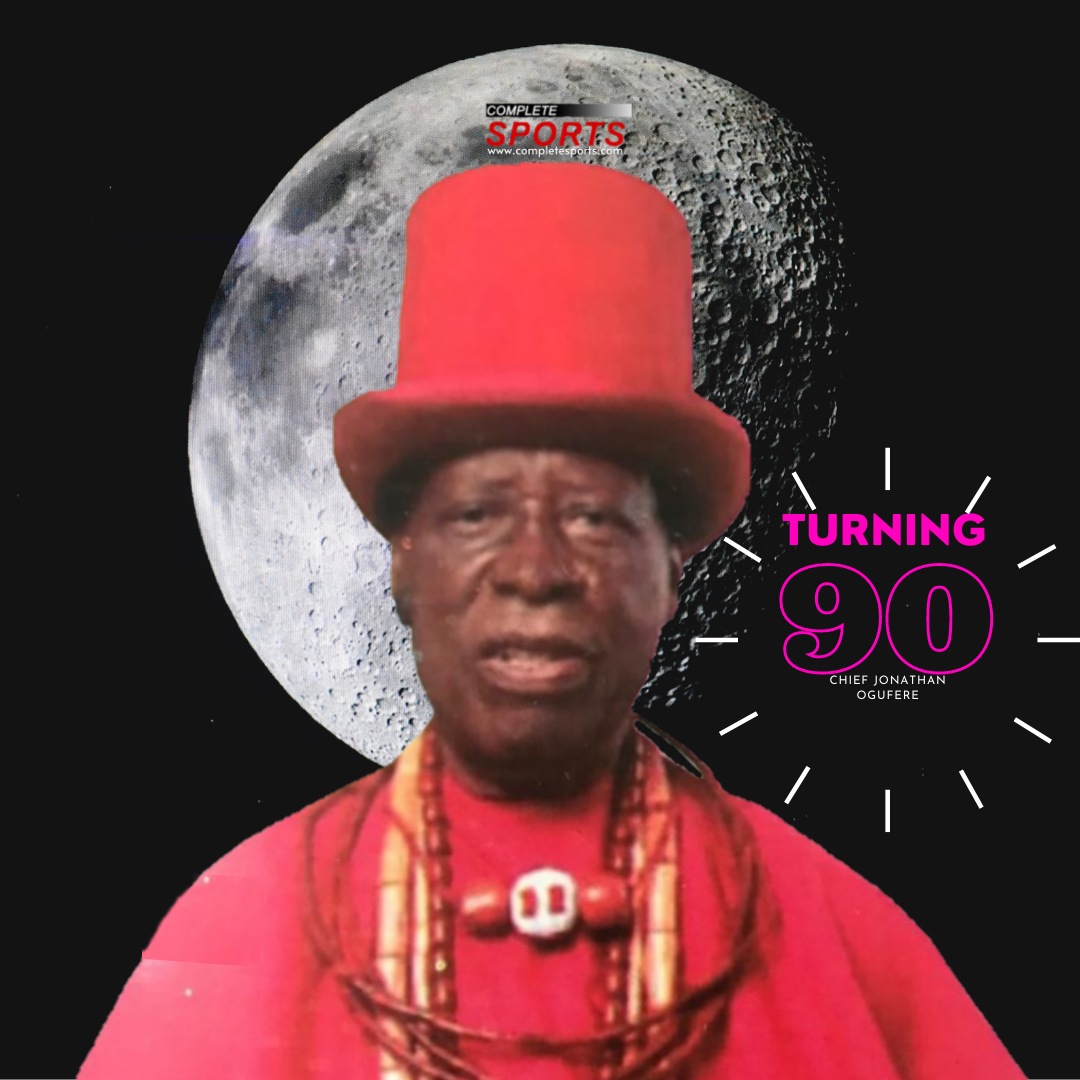 By Segun Adenuga
He has been too quiet to be noticed, but paradoxically, too big and formidable, especially on sporting scene, to be ignored.
A fervent football aficionado, an admirable, consummate sport administrator, an epitome of gentility and moral value, Chief Jonathan Ogufere has combined native wisdom with education to live a life of decency, devoid of acrimony and rancour as he turns 90 today, 23 June, 2022.
Chief Jonathan Boytie Ogunfere was born in Okirighwre, Amukpe in Sapele Local Government Area of Delta State in 1932 to late Chief Dixton Ofuya Ogufere and Mrs Esevukperi Ogufere as the first child of his father's sixteen children.
At the age of six, the young Jonathan began his primary education at the CMS School, Amukpe in 1938, moved to the Roman Catholic School, Sapele in 1939 and later completed his primary education at the Zik's Academy, also in Sapele, in 1945.
Also Read: Nwobodo Makes MLS Team Of The Week
As a notable member of the famous Sapele "Burma Boys" with fire brand journalist and publisher Sam Amuka-Pemu in the forefront, the group carved a niche as they progressively pursued their educational exploits.
Jonathan Ogufere got admission into a private school founded by a Sierra-Leonian, Reverend Lionel Randle Potts-Johnson, when he was admitted into the Enitonna High School, Port Harcourt in the present Rivers State in 1946 for his secondary education, where he sat for the Cambridge school certificate examination in 1950 and passed with distinction.
Thereafter, he joined the workforce of Kingsway Stores in Sapele in 1951 and, in the same year, joined the Government Civil Service as a Postal Clerk and Telegraphist in the Posts and Telegraph Department, Lagos.
Prior to the first visit of Her Royal Majesty Queen Elizabeth II of the United Kingdom and her husband Phillip, the Duke of Edinburgh in January 1956, Ogufere was among the 12 specially selected Telegraphists from the Post and Telegraphs Department to form the backroom staff of the Royal entourage throughout the memorable visit of Queen Elizabeth to Lagos, Ibadan, Enugu, Port Harcourt, Kaduna, Jos and Kano. They were charged with transmitting all telegraph message to the colonial office in London and news stories by the accompanying journalists to their various tabloids in U.K regarding the visit.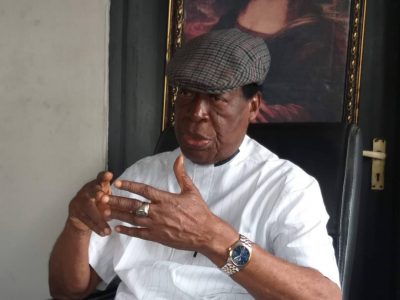 For a job well done, Chief Jonathan Ogufere and his colleagues were presented letters of recommendation after the visit of the Majesty, the Queen of England, which read in part: "Commended by the Director for the good performance during the visit of her Majesty the Queen of England."
As a further incentive, Chief Ogufere was among the four successful candidates selected in 1958 to undergo a two-year study in Telecommunication Traffic and Commercial Practices organized by the British Post Office in the United Kingdom, in which he was successful.
After a two-year stint in London, Chief Ogufere returned to Nigeria and was transferred to Enugu from where he was transferred back to Lagos in 1961 where he worked until 1966 before being posted to Benin City as the Territorial Controller of the Post and Telecommunication Department for the Mid Western Region. As if Enugu was tied to his fate, Chief Ogunfere was reposted to the "Coal City" in 1969, and barely three days after his arrival in Enugu , the Nigeria Civil War ended as the "Man of Peace" entered.
Unrelenting, Ogufere was saddled with the Federal Government's post-war activities of Reconciliation, Rehabilitation and Reconstruction. And he was rewarded for his painstaking endeavours as a street, "Ogufere Street", was named after him in G.R.A., Enugu, which is still there till date.
Sporting Life
Let us digress now into Chief Jonathan Ogufere's sporting life, with particular reference to his football passion. As a football lover since the days of Amukpe All Stars Football Club in 1962, he made a foray into football business when he founded the P&T Rockets Football Club, Benin City in 1966, the same year he was appointed to the Board of the Nigeria Football Association. He also single handedly found the famous P&T Vasco Da Gama of Enugu, which became a major rival club to Enugu Rangers FC in 1971. Vasco produced stars like Harrison Macha, Obed Ariri and Patrick Ekeji, who rose to the post of Director-General at the National Sports Commission.
Also Read: 'They Are The Future Of Nigerian Football' — Peseiro Hails Golden Eaglets, Flamingos
Ogufere was a member of the Nigeria Football Association in 1966 and, again between 1976-1984, before serving in the West African Football Association (WAFU) as vice-president to the late Ghanaian football administrator, Samuel Okyere. He rose to the pinnacle of the sub-regional football controlling body, becoming the second Nigerian after John Kweku Tandoh to assume leadership over the 16-nation group in 1988, succeeding Aboudlaye Fofana of Mali.
A man of virtue and simplicity, Ogufere was never lacking in ideas as he kept rolling out innovative ideas to keep football growing in Nigeria. He explored new frontiers when in 2002, he founded the Association of Sports Veterans of Nigeria with him as the first President.
A veritable football administrator, Chief Jonathan Ogufere was the Football League Secretary of the Enugu Amateur Football Association in 1958; founding Chairman, Rockets F.C. of Benin City in 1967; member, Mid-West Football Association from 1967-68; founding Chairman, Enugu Vasco Da Gama Football Club in 1970; member, East Central State of Nigeria Football Association 1971-75; member, East Central State Sports Council 1973-75; founder President, P&T National Sports Club and P&T Dynamos Football Club, 1979; facilitator of three National Sports Festivals -1980 in Benin-City, 1982 in Kaduna and 1984 in Calabar.
Ogufere was recognized for his painstaking hard work when the Federal Government in December 2003 honoured him with the National Merit Award in Sports. He was also honoured by his community with the title of OKAKURO Of Okpe Kingdom in 1988. He was elevated to the highest title ever bestowed on any eminent Amukpe indigene when he was installed as the 12th OKPAKO-Amua of Okrighwre Community on Saturday, 19 June, 2021.
May you live even longer Nigeria's long-serving Sports Ambassador, Chief Jonathan Boytie Ogufere, as you celebrate your 90th birthday today.
MR. SEGUN ADENUGA, Nigeria's oldest veteran journalist is 80 years old.
The post Jonathan Ogufere @90: Ode To A Quintessential Sports Administrator appeared first on Complete Sports.