Donate to and support MelodyInter
Kindly Donate to and support MelodyInter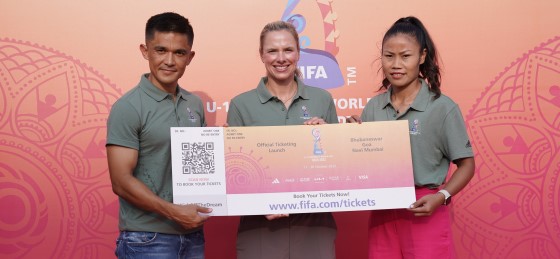 Tickets sales for the forthcoming FIFA U-17 Women World cup in India has opened on the basis of first come first served World soccer ruling body FIFA has confirmed. With three months to go, fans can now purchase their tickets for any of the 32 games of this festival of women's youth football.
Ticket sales were officially launched today at Jawaharlal Nehru Stadium during a special match in New Delhi. The Official Ticketing Launch & Legends Match kicked off with an exhibition match comprising two star-studded teams, including FIFA Legend and two-time Olympic gold medal winner, former US women's national team star Lindsay Tarpley.
Indian women's and men's football stars including Ashalata Devi, Sunil Chhetri, Gurpreet Singh Sandhu and Aditi Chauhan were joined by other legendary stars including IM Vijayan, Oinam Bembem Devi and Bhaichung Bhutia for the star-studded match to celebrate ticket sales opening for the tournament.
The Kick Off The Dream

carnivals, a legacy initiative for the competition, aim to encourage children to break gender stereotypes by normalising inclusive participation through football-themed games and activities. During the carnival, 200 children were present and engaged in the various football-themed activities.
READ ALSOIndia 2022: CAF congratulates Nigeria, Morocco and Tanzania for picking FIFA U-17 Women's World Cup tickets
In addition, the FIFA U-17 Women's World Cup India 2022 Winner's Trophy was also on display and participating children got a chance to strike a pose with the silverware.
Speaking after the event, FIFA Legend Lindsay Tarpley said:
"Playing at FIFA youth tournaments was a hugely important and memorable milestone in my career, as well as for many other stars from the USA and around the world. The FIFA U-17 Women's World Cup India 2022 will be a hugely exciting opportunity for fans across India and around the world to not only celebrate and be part of the exciting growth and momentum that women's football is experiencing at the moment, but also to watch and support some of the brightest emerging stars of the women's game."
India national team captain Sunil Chhetri added:
"Participating in a FIFA competition is a matter of immense pride. Hosting it is even more prestigious. I therefore encourage all football fans to visit the stadiums and support the brightest young female footballers from across the world. These events come along very rarely and it is a chance for us as a nation to make our voices heard from the stands, which will be a representation of football's popularity in India to the watching world."