Early this week, 12 of the world's most popular football clubs announced plans to start the Super League, a closed competition in which they will compete against one another for a share of football's billions of dollars in income, breaking away from the UEFA Champions League.
"AC Milan, Arsenal, Atletico Madrid, Chelsea, Barcelona, Inter Milan, Juventus, Liverpool, Manchester City, Manchester United, Real Madrid and Tottenham Hotspur have all joined as founding clubs," said a statement by the group.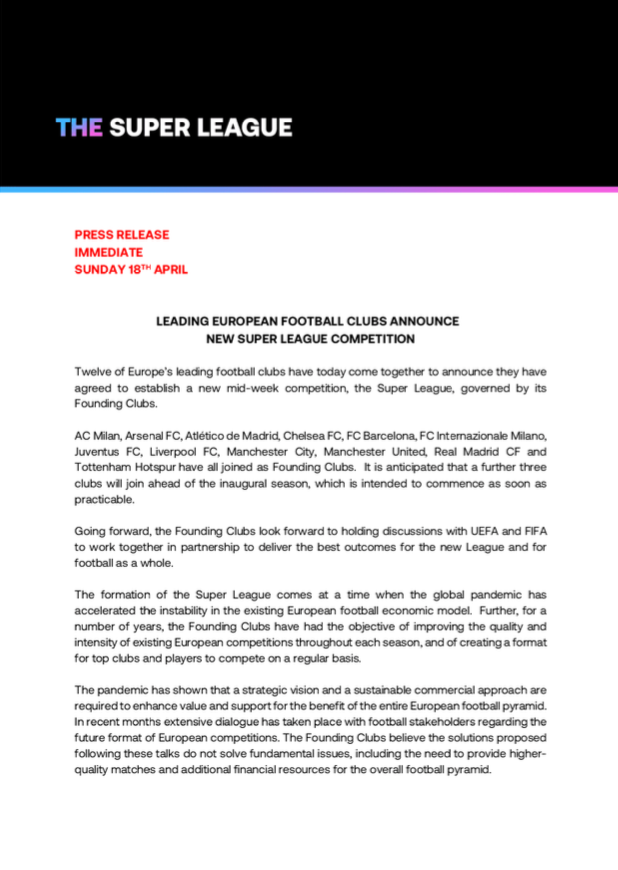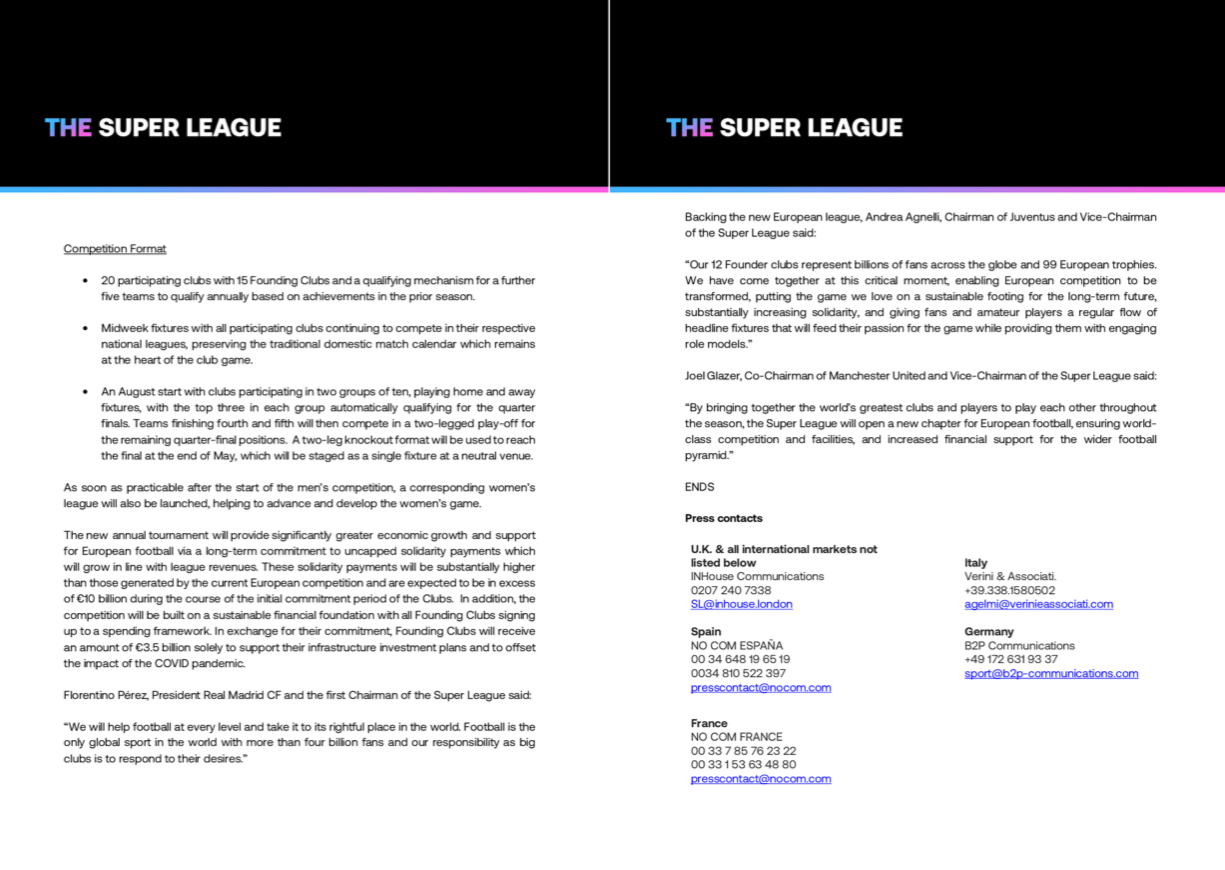 However, this incited outrage among supporters, leaders, and domestic leagues.
First things first, what is the Super League? 
It is a global competition that brings together all of Europe's most well-known names in a unique event. It's been in the works for a long time now, but it wasn't until Sunday night that it took shape.
What club gets to play in the Super League?
The statement announced a total of 12 founding clubs: Real Madrid, Manchester United, Liverpool, and Juventus. They later welcomed eight additional clubs to join them: Barcelona and Atlético Madrid from Spain, Inter Milan and A.C. Milan from Italy, and the remainder of the Premier League's Big Six: Manchester City, Chelsea, Tottenham Hotspur, and Arsenal from the United Kingdom.
Here's how it works:
The 20 teams will be divided into two groups, each of ten teams, and will play home-and-away matches. The top four clubs in each group will advance to a playoff round, which will be common to Champions League fans, after the regular season. The only distinction is that the playoffs will last four weeks until the conclusion of the season.
According to the statement, the first edition was meant to take place "as soon as possible." It was scheduled to take place in August, with two groups of ten playing home and away, with the top three qualifyings for the quarter-finals.
The fourth and fifth-placed teams will compete for the next two quarter-final slots. The quarter-finals and semi-finals will be contested over two legs, while the final will be played in a single game at a neutral venue.
A women's edition was also in the works.
Is money involved?
Well, every founding member stands to benefit about $400 million, according to their own figures, only for establishing "a secure financial foundation," which is four times more than Bayern Munich won for winning the Champions League last season.
The clubs projected that selling the Super League's television rights, as well as advertising revenue, would be worth billions of dollars. And instead of being redistributed to smaller teams and leagues by UEFA, it would all go to them. Domestic leagues and their teams, on the other hand, would lose a lot of value when they are essentially made as also-rans every year.
Six English have released statements after their exclusion from football's planned European Super League:
Arsenal
It was never our intention to cause such distress, however when the invitation to join the Super League came, while knowing there were no guarantees, we did not want to be left behind to ensure we protected Arsenal and its future.

As a result of listening to you and the wider football community over recent days we are withdrawing from the proposed Super League. We made a mistake, and we apologise for it.
Chelsea
Having joined the group late last week, we have now had time to consider the matter fully and have decided that our continued participation in these plans would not be in the best interests of the club, our supporters or the wider football community.
Liverpool
In recent days, the club has received representations from various key stakeholders, both internally and externally, and we would like to thank them for their valuable contributions.
Manchester City
Manchester City Football Club can confirm that it has formally enacted the procedures to withdraw from the group developing plans for a European Super League.
Manchester United
We have listened carefully to the reaction from our fans, the UK government and other key stakeholders.
Tottenham Hotspur
We regret the anxiety and upset caused by the ESL proposal. We felt it was important that our club participated in the development of a possible new structure that sought to better ensure financial fair play and financial sustainability whilst delivering significantly increased support for the wider football pyramid.
The post Why Clubs are Pulling Out of the European Super League appeared first on BellaNaija – Showcasing Africa to the world. Read today!.